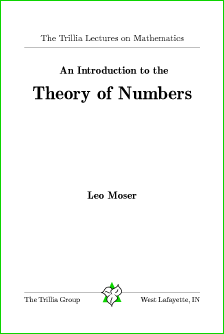 An Introduction to the
Theory of Numbers
by Leo Moser
Description: This book, which presupposes familiarity only with the most elementary concepts of arithmetic (divisibility properties, greatest common divisor, etc.), is an expanded version of a series of lectures for graduate students on elementary number theory. Topics include: Compositions and Partitions; Arithmetic Functions; Distribution of Primes; Irrational Numbers; Congruences; Diophantine Equations; Combinatorial Number Theory; and Geometry of Numbers. Three sections of problems (which include exercises as well as unsolved problems) complete the text.
Audience: This book is appropriate for a second undergraduate course in Number Theory, or as an introduction to the subject for beginning graduate students.
Publishing Information: An Introduction to the Theory of Numbers, by Leo Moser, ISBN 978-1-931705-01-1, published by The Trillia Group, 2004. 87+vi pages, 231 problems, 6 figures, hypertextual cross-references. Download size: 463 to 478 KB, depending on format. Current version released July 31, 2011.
Excerpts from the Text: The Terms and Conditions and the Preface.
Reviews: Review this book at The Assayer.
Terms and Conditions: All uses of this text are subject to the Terms and Conditions contained in this text. As part of these terms, we license this text free of charge to students using it for self-study, and to lecturers evaluating it as a required or recommended text for a course. All other uses of this text are subject to a charge of $10US for individual use and $300US for use by all individuals at a single site of a college or university.
Site Licenses: No organization has yet purchased a site license for this text; check our list of site licenses to see whether you are a member of a group that has purchased a site license for one of our other texts.
Download the Book: After you have read and you accept the Terms and Conditions for use of the book, click below on the phrase "I accept" for the format of your choice to immediately download the book. You will need Adobe Acrobat Reader or another program that can work with Portable Document Format (PDF) files to display or print the book. Note: If you have difficulties reading our products with Adobe Acrobat Reader, please consult this page to see whether we have already been able to diagnose and solve the difficulty you are having.
Larger print, one page per sheet of paper, bind at left.
Regular print, two pages per sheet of paper, bind at top.
Donate: The Trillia Group accepts donations from people who are otherwise licensed to use An Introduction to the Theory of Numbers free of charge. Donations of as little as US$2 or €2 help us continue to produce and distribute quality online texts.
Buy the Book: Go to our Purchase page to buy a license to use the book.
Errata: There is a list of errata that records changes made to the text since the version of March 1, 2004. The latest version of the book is always available at the links above.